We're Getting Mutants in the MCU - The Loop
Play Sound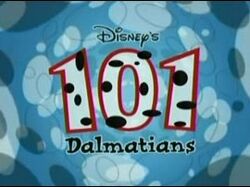 The following is a list of episodes of 101 Dalmatians: The Series.
The series debuted in syndication on September 13, 1997, running new episodes five days a week. Two weeks later, the show came to ABC's One Saturday Morning lineup, airing original episodes that could only be seen on the network. 65 half-hour episodes with 105 segments were produced: 12 episodes with 18 segments in the first season and 53 containing 84 in the second. By March 4, 1998, the show played its last episode.
Season 1: 1997-1998
| # | Title | Air Date | Summary |
| --- | --- | --- | --- |
| 1 | "Home is Where the Bark Is" | September 13, 1997 | When the Dearlys first move from their Brownstone in Topstowns to the farm in the country, Lucky, Rolly, and Cadpig start to feel homesick, so try to run back to their Brownstone. However, Cruella, their new neighbor, is already scheming to steal the farm from the Dearlys. |
| 2A | "He Followed Me Home" | September 27, 1997 | When a circus elephant gets loose and winds up on the Dearly Farm, the pups must hide it from Cruella at all costs otherwise, violate their only 101 pets rule on the farm's deed and have the Farm become Cruella's property. |
| 2B | "Love 'Em and Flea 'Em" | September 27, 1997 | After Two-Tone invites Lucky to the Four Legged Ball, Mooch instantly starts planning a scheme to prevent Lucky from going, so he can go with Two-Tone himself. These methods include, giving Lucky Dipstick's fleas and dying his fur pink. |
| 3A | "Howl Noon" | October 4, 1997 | When Lt. Pug's old puphood bully Persian Pete arrives, Cadpig becomes Pug's therapists to help Pug confront him. |
| 3B | "Easy on the Lies" | October 4, 1997 | When Rolly traps himself into hearing the Colonel tell a story he has heard very often, Lucky stretches the truth to try to get him out of it, which lands them all in trouble. |
| 4A | "Two for the Show" | October 11, 1997 | Lucky receives a ticket to appear on a game show, Squeal of Fortune, however becomes conceited and big headed when trying to find his team mate. Meanwhile, Cruella enters Scorch and Vendella into the show too, in order to advertise her new fashion pet wear. |
| 4B | "An Officer and a Gentledog" | October 11, 1997 | In order to join the Cadet Core, Lucky, Cadpig, Rolly, and Spot must complete "The Obstacle Course of Extreme Pain and Agony".  |
| 5A | "Bad to the Bone" | October 18, 1997 | After Rolly fakes a fight against Cydne the Snake, he is welcomed into Mooch's gang, while at the same time ditching his real friends. However, Cydne hears about his fake fight and goes to confront Rolly. |
| 5B | "Southern Fried Cruella" | October 18, 1997 | Cruella is given responsibility of the farm, while Roger and Anita are away for the weekend and Nanny goes to see her sister. However, Cruella plans to trick Bill Spotly into sign into a contract, allowing her to build factories all around the farm. The Dalmatians have to show Spotly, the real Cruella before he is able to sign anything. |
| 6A | "Swine Song" | October 25, 1997 | When Rolly suddenly falls in love with Dumpling, Lucky, Cadpig, and Spot help him. However, Dumpling isn't too interested in Rolly, causing him to lose hope. Can Lucky, Cadpig, and Spot attempt to help Rolly impress Dumpling, or is this a love that can never be? |
| 6B | "Watch for Falling Idols" | October 25, 1997 | When the creators of Thunderbolt use the farm to film an episode, Lucky is thrilled to meet his idol. However, when Lucky finds out that Thunderbolt doesn't do his own stunts, he loses faith in him. Will Thunderbolt be able to obtain Lucky's respect or will he remain a fallen idol? |
| 7A | "The High Price of Fame" | November 1, 1997 | Upon being embarrassed from being recorded for "Stupendously Embarrassing Home Videos" by the pups, Spot seeks help from Swamp Rat to gain some respect, by staged heroic acts. |
| 7B | "The Great Cat Invasion" | November 1, 1997 | Lucky is sick of hearing about Lt. Pug's fictional cat invasion. |
| 8 | "No Train, No Gain" | November 8, 1997 | Cruella attempts to steal the railway cart from the Dearly Farm in order to sell it to computer trains enthusiast, Billy Fences. However, the pups and the Colonel are on the cart as well and plan out a strategy to get the cart back to the farm. |
| 9A | "Rolly's Egg-Celent Adventure" | November 15, 1997 | Whilst watching some of the chickens eggs, Rolly causes them to hatch, making the chicks think he's their mother. Meanwhile, Scorch is lurking about and hungry for chicken. |
| 9B | "Wild Chick Chase" | November 15, 1997 | Spot has to babysit a chick when she really would rather go for a swim. |
| 10A | "The Dogs of DeVil" | November 22, 1997 | After watching a soap opera, Cadpig jumps to the conclusion that Cruella telling Anita to work on a Saturday and her obedience to that order means Roger and Anita are divorcing. |
| 10B | "Dog's Best Friend" | November 22, 1997 | When a new dog, Blaze arrives on the Dearly Farm, Lucky instantly becomes very good friends with him. This however begins to spark jealousy from Rolly. |
| 11 | "A Christmas Cruella" | December 20, 1997 | Cruella fires Anita on Christmas Eve and now shall be visited by three ghosts, taking a look into her past, the Christmas of the present and of the future. |
| 12A | "Out to Launch" | January 10, 1998 | Lucky has recently been obsessed with Roger's space flight simulator, though when his friends believe he's developing an unhealthy habit, they force him to come with them to check out Cruella's trash. Meanwhile, Cruella De Vil has purchases a rocket that was formerly owned by the U.S.S.R., in which she wishes to turn it into the world's first weight loss center in space. |
| 12B | "Prophet and Loss" | January 10, 1998 | After Rolly wins a race, everyone accuses Cadpig of being a psychic. Soon, Cadpig starts to believe she really is one and she makes untruthful predictions. |
Season 2: 1997-1998
#
Title
Original Air Date
Summary
13A
"You Slipped a Disk"
September 1, 1997
Roger appoints Lucky to guard a game of his which portrays Cruella as an evil machine called "The Cruellanator". However Scorch, Cruella's ferret, gets his paws on the game disk, and now Lucky, Cadpig and Rolly must chase him through "Villa Devil" and stop Cruella from seeing the game.
13B
"Chow About That?"
September 1, 1997
Upon missing lunch, Lucky, Rolly and Cadpig try to figure out a way to break into the Chow Tower. However, Spot is trying to tell them something.
14A
"Tic Track Toe"
September 2, 1997
Cruella plans to tear down the greyhound track after loosing a million dollar wager on Go-Go, a greyhound who is the "World's Fastest Dog", but is also scared of rabbits.

The pups must cure Go-Go of his leporiphobia and win the afternoon race, showing Cruella the money she can make from the track.

14B
"Lucky All Star"
September 2, 1997
When Roger picks Tripod to enter in a digging contest, Lucky fears that this might endanger his position as Roger's favorite.
15A
"Shake, Rattle and Woof"
September 3, 1997
Roger has recently been training his Dalmatians to sing, though when Cruella De Vil catches wind of this, she decides to create a television program for them. Roger eagerly signs them up, but when it turns out that Cruella's show is nothing more than a plot to force the Dearlys to sell their farm, the Dearly Dalmatians must find a way to turn the tables on her.
15B
"Cadpig Behind Bars"
September 3, 1997
Cadpig bites the back bumper of a dogcatcher's van and gets taken to a pound, where many other dogs were. Lucky, Rolly and Lieutenant Pug plan ways to get Cadpig out of the pound.
16A
"Leisure Lawsuit"
September 4, 1997
Cruella fakes an injury on the Dearly Farm and plans to sue the Dearly's for everything they got. Lucky, Cadpig, Rolly and Spot must find a way to show Roger and Anita that Cruella is faking it, before the law suit goes her way.
16B
"Purred It Through the Grapevine"
September 4 1997
Lt. Pug has become obsessed once again like he was in "The Great Cat Invasion", mistaking one of the Colonel's messages for an invasion siren. The pups must figure out what the message really translates too, before Pug takes things, too far.
17A
"Our Own Digs"
September 5, 1997
Lucky, Rolly, and Cadpig search for a space of their own when the barn gets too crowded. Soon, they, along with Lt. Pug, find it. However, Lt. Pug decides to turn the space into his own military headquarters, pushing the pups out.
17B
"Goose Pimples"
September 5, 1997
Lt. Pug takes the pups on night maneuvers and scares them with stories about Lockjaw, a fictional character. However, signs show that his story is not crazy after all.
18
"Two Faces of Anita"
September 8, 1997
Anita wins Designer of the Year, but a jealous soaked Cruella with help of extreme plastic make over plans to take Anita's place and have her accept the award in Cruella's name. The pups must free Anita and reveal Cruella as the fake before the ceremony.
19
"The Fungus Among Us"
September 9, 1997
When business is doing badly, Cruella needs some way to get more investors. Scorch however locates a field of underground mushrooms which would make the perfect perfume scent. The pups must defend the arn and stop Cruella from tearing it down to get the mushrooms.
20A
"Market Mayhem"
September 10, 1997
The Chow Tower has run out of kibble, so Nanny plans to buy some discount kibble to hold til the next delivery. Lucky, Rolly, Cadpig and Spot stow away to convince her to buy Kanine Krunchies instead.

Meanwhile, Cruella tries to buy the market from it's owners to build her own private car wash on it and hires, Horace and Jasper to stick up the store.

20B
"Lucky to be Alone"
September 10, 1997
Pongo and Perdita send Lucky to the Pups' rich relations, Aunt Coco and Uncle Beamer Vandercream, after Lucky complains on feeling too cramped on the farm. However how long will it be before Lucky feels home sick?
21
"Four Stories Up"
September 11, 1997
When Cruella interupts Thunderbolt with her telephone, Lucky, Rolly, Cadpig & Spot give their suggestions for how the Thunderbolt story closes.
22A
"It's a Swamp Thing"
September 12, 1997
Lucky tries to sneak into the swamp against the Colonel's wishes, however he looses the Colonel's scarf in the process. He, Cadpig, Rolly and Spot must now go through the swamps in order to get the scarf back.
22B
"Roll Out the Pork Barrel"
September 12, 1997
Rolly, feeling fed up of the way the others treat him, becomes Ed Pig's protégé, causing his friends to become depressed.
23A
"Alive N' Chicken"
September 15, 1997
Upon mis-hearing a conversation between Nanny and Anita, Spot is convinced she's going to die. The pups aware of the fact that Spot is not going to die take this opportunity to have her live it up.
23B
"Prima Doggy"
September 15, 1997
Lucky is picked to star in the new Kanine Krunchies commercial, with Cecil B. Devil as the director. But being a tar quickly goes to Lucky's head.
24
"You Say It's Your Birthday"
September 16, 1997
Roger, Anita, Nanny, Pongo and Perdita are setting up a party to celebrate 101 days of the Dalmatians being together. However, Lucky, Cadpig, Rolly and Spot mistakens this for them giving the pups to Cruella.

Meanwhile, Cruella sees Anita's designs for the pups' presents and suspects Anita to be moonlighting to her competition, Ralphie St. Lowrent.

25A
"Oozy Does It"
September 17, 1997

Cruella, ignoring enviromental protection laws, orders Horace and Jasper to dump the waste of her new jeans line into Hiccup Hole. Lucky gets all the animals together in order to save Hiccup Hole.

25B
"Barnboozled"
September 17, 1997
Cruella finds a loophole in the Dearly's contract saying she legally owns the barn, however she must stay in the barn for over 24 hours or else the Dearly's get it back. The pups try to drive her out.
26
"Citizen Canine"
September 18, 1997
Fed up with how Mayor Ed Pig abuses his powers as mayor, Lucky runs for office in the farm election. However will Lucky be able to keep his election promises once he wins?
27A
"Full Metal Pullet"
September 20, 1997
Lt. Pug attempts to teach Unit Cohesion to the Bark Brigade and assigns teams together to work together as one big dog. Lucky isn't so thrilled however since his team has Spot, a chicken.
27B
"Dough the Right Thing"
September 20, 1997
The Dalmatians return a purse to Cruella, believing she lost it. However when it's revealed that the purse really belongs to Anita and contains the Dearly Farm's monthly mortgage payment, the pups need to sneek into Villa Devil and get the purse back.
28A
"Frisky Business"
September 22, 1997
The pups are determined to try out the new Kanine Krunchies recipe despite Spot's objections and borrow Cruella's car, Roger must now keep Cruella distracted long enough for Nanny and Horace to bring back the pups and the car.
28B
"Cadet of the Month"
September 22, 1997
In attempt to win Cadet of the Month, Lucky sets up a trap which he intends to save Lt. Pug from. However the plan backfires and now the pups must make their way through the junk yard, before Pug is crushed into Cruella's new trash clothing line.
29
"Valentine Daze"
September 23, 1997
Lucky manages to lose the Valentine Roger made for Anita. When Cruella gets hold of it, she is determined to find out who it is from. Meanwhile, Horace attempts to give Nanny a Valentine's Day cake.
30A
"Close But No Cigar"
September 25, 1997
At the county fair, Cruella attempts to rig a sweepstakes to get herself to win with ticket #202, though Horace accidentally sold her ticket to Nanny. The pups, meanwhile, get left behind and must get to the fair to return Nanny her ticket.
30B
"Invasion of the Doggy Snatchers"
September 25, 1997
Spot stumbles across a chicken who believes the pups have been turned into aliens.
31A
"Smoke Detectors"
September 26, 1997
When Cruella's smoking in bed sets her house on fire, she moves in with the Dearlys until she can quit. The pups attempt to help.
31B
"Lobster Tale"
September 26, 1997
Cadpig breaks a lobster named Lance out from a sea food restaurant and attempts to return him to the wild. However, Lance is trying to tell them something. What can it be?
32A
"Double Dog Dare"
September 29, 1997
Lucky dares Spot to sneak into Villa Devil and take Cruella's sleeping mask without waking her up. However when it becomes apparent that Lucky has never been Double Dog Dared before, Cadpig and Rolly make it his dare to help Spot.
32B
"Mooove It On Over"
September 29, 1997
The Dearly Farm cows, Duchess and Princess argue over their personal space, so Cadpig attempts to fix the problem with a psychological viewpoint, this only makes matters worse and almost causes an all out war with the animals on the farm.
33
"Shipwrecked"
October 1, 1997
The Dearlys and Cruella, attempting to get away from each other for a day, end up on the same cruise, then Lucky and Scorch fall overboard.
34
"Mall Pups"
October 3, 1997
Lucky, Cadpig, Rolly, and Spot sneak away from Bark Brigade class to visit the Stifle Mall. Lt. Pug pursues them.
35A
"Shrewzle Watch"
October 6, 1997
Cruella and a wildlife specialist look for a tree shrewzle as part of Cruella's latest scheme to get the Dearly's farm. The pups must uncover this scheme and play Cruella at her own game.
35B
"The Life You Save"
October 6, 1997
When Lucky accidentally pushes Dumpling, she believes he saved her life. She proceeds to see to it that he always gets what he wants. However it soon becomes too much for Lucky and he attempts to get her off him.
36A
"Spots and Shots"
October 13, 1997
The vet shows up to vaccinate the pups for "Itchy Swelly Nosis". Lucky however tries to hide in Villa Devil.
36B
"On the Lamb"
October 13, 1997
Kelly, a sheepdog, asks for the Bark Brigade to help retrieve a lamb, the lost sheep turns out to be the Goliath-sized Lambo, who claims he will never go back to the flock.
37A
"Treasure of Swamp Island"
October 20, 1997
The Dalmatians find a map, speaking of treasure buried in the swamp and begin to fight over it. The treasure however is in fact Cruella hiding her loot from the tax collector.
37B
"Lord of the Termites"
October 20, 1997
After termites from the Dearlys' farmhouse destroy Cruella's wooden clothing line, she forces them to evacuate the farm. However, they accidentally forget to take Lucky, Cadpig, Rolly and Spot. The Pups now need to protect their home from Horace and Jasper, who are in fact there to deal with the Termites.
38A
"Fountain of Youth"
October 30, 1997
Roger accidentally causes the pipes to burst, causing a flood on the Dearly Farm. Cruella however mistakens the water to be 'The Fountain Of Youth' and now, the Pups must stop Horace and Jasper from stealing the water away.
38B
"Walk a Mile in My Tracks"
October 30, 1997
Lt. Pug and Cornellia attempt to walk in each other's shoes.
39
"Cruella World"
October 31, 1997
Cruella builds an amusment park to cover up her oil drill operations in the swamp. Lucky soon finds out however, but no one believes him after his exaggerated stories.
40A
"Hail to the Chief"
November 3, 1997
The pups dream of becoming chief fire dog while Cruella attempts to drive the Grutely Volunteer Fire Service out of business.
40B
"Food for Thought"
November 3, 1997
Rolly's "food first attitude" gets him into trouble once again, where he winds up being tested for side effects in P. H. Devil's new Hoo Ha Light Ice Cream. However what will happen to Rolly when the helium in the ice cream takes effect?
41
"The Maltese Chicken"
November 7, 1997
A parody of The Maltese Falcon with Spot in the title role as detective "Pullet Marlow". Her mom, Corneila, lays a giant egg, which Dumpling sees as a threat to her winning streak at the "best big farm thing contest". Meanwhile, Lucy, showing her hatred of decibels, gets framed for stealing the egg.
42A
"Film Fatale"
November 10, 1997
Lucky leads the pups and Spot to sneak into the Cruellaplex movie theater to see the newest Thunderbolt film.
42B
"My Fair Chicken"
November 10, 1997
Cornelia is determined that Spot will act like a chicken at the Silver Egg Solcial. The pups try to remind her how to be a chicken.
43A
"Snow Bounders"
November 11, 1997
Lucky, Cadpig, Rolly and Spot attempt to stow away on Roger and Pongo's snow camping trip. However, they accidentally find themselves stuck in the snow wilderness with Cruella. The pups now need to work together with Cruella, to survive the blizzard long enough for Roger and Pongo to find them.
43B
"Gnaw or Never"
November 11, 1997
Rolly becomes obsessed with chewing shoes, Cruella's in particular. Now the other pups have to break his addiction before he chews out all of Cruella's shoes.
44A
"Poison Ivy"
November 14, 1997
Ivy, Cruella's niece, helps her aunt in a scheme to buy the farm from the Dearlys by committing crimes and framing the puppies for it using her innocent-looking buggy pram.
44B
"Twelve Angry Pups"
November 14, 1997
Various items around the Dearly Farm mysteriously go missing and all fingers point to Mooch. The Dalmatians and farm animals now hold a trial to determine Mooch's guilt, with Lucky in defence and Spot in prosecution.
45
"The Good-bye Chick"
November 17, 1997
Spot get sick of her mother's temper and grounding her from hanging out with the pups, so she runs away and eventually joins a circus that is run by Cruella.
46A
"Robo-Rolly"
November 20, 1997
In order to steal new designs from Anita, Cruella creates a robot duplicate of Rolly. The other pups now must find a way to foil Cruella's scheme and rescue the real Rolly.
46B
"Splishing and Splashing"
November 20, 1997
After the Pups get banned from Hiccup Hole until apologising for splashing Lucy and calling her names, they try to find Subsitutes in the swamp and Cruella's pool.
47
"Virtual Lucky"
November 21, 1997
Whilst testing Rogers new video game, Lucky and Cruella get sucked into the game itself! Now, Lucky has to face Cruella in every level and win, or else it's "Game over"!
48
"Cupid Pups"
November 24, 1997
The pups try to make Baron Von Schnickerdoodle fall in love with Cruella, believing that if they marry, she will move away from them.
49A
"The Artist Formerly Known as Spot"
November 25, 1997
When Spot gets covered in paint and attempts to run it off, Cruella becomes convinced it is artwork and plans to make a fortune from it.
49B
"The Nose Knows"
November 25, 1997
Rolly's nose smells everything, and it becomes a problem, enough to where Lt. Pug wants to kick him out of the Bark Brigade.
50
"K is for Kibble"
January 5, 1998
When all the kibble keeps vanishing from the Chow Tower every night, Rolly becomes the prime suspect. Spot reprises her role as Pulet Marole see "The Maltease Chicken" to prove Rolly's innocence.
51
"Humanitarian of the Year"
January 12, 1998
Horace and Jasper try to get rid of a box of incriminating photos for Cruella so she can become Humanitarian of the Year.
52A
"Beauty Pageant Pandemonium"
January 16, 1998
Amber, Anita's niece, and Ivy, Cruella's niece, enter a beauty contest. Ivy forces Cruella to help her win. However, Amber has the pups on her side, causing her to win over Ivy.
52B
"Hog-Tied"
January 16, 1998
Dumpling is bored, so she decides to join the pups' group despite the fact that they do not want her to.
53
"Coup DeVil"
January 19, 1998
Cruella hosts a family reunion, with her bossy mother grumpy at her the entire time.
54A
"Every Little Crooked Nanny"
January 30, 1998
In order to spy on Anita, Cruella disguises herself as a temporary house cleaner, whilst Horace & Jasper have taken Nanny for a make over. The Dalmatians must expose Cruella for the phony she is.
54B
"Cone Head"
January 30, 1998
After having an accident at Hiccup Hole, Lucky is forced to wear a cone and now must find a way to hide his embarrassment. Meanwhile, Roger finds that he has a bald spot and tries his best to cover it up.
55A
"Channels"
February 6, 1998
Upon hearing a news report of, Anita accidentally locking herself out her car in Gruteley and the Dalmatians & Spot try to bring the spare keys to her, however two criminals have escaped from Stiffle State Prison and rob the bank, with Cruella's car as a get-away car. Meanwhile, the other farm animals fight over the television.
55B
"Un-Lucky"
February 6, 1998
Lucky's fur begins malting, which as effect causes his Horse Shoe Spot Pattern to rub off, now Lucky is paranoid that he has lost his Luck. The Dalmatians need to show that Lucky still has his Luck. Meanwhile, Roger claims to have a game which would pay off all the farm's mortage, Cruella is determined to stop this.
56
"The Making of..."
February 9, 1998
The pups and the entire cast talk about the original concepts for 101 Dalmatians: The Series.
57A
"Best of Show"
February 11, 1998
Irritated by Cruella's remarks about their dogs, Roger enters Lucky, Rolly, and Cadpig in a dog show, with Spot as their trainer.
57B
"Walk on the Wild Side"
February 11, 1998
Wanting to get revenge for being pranked by Mooch, Rolly teams up with Swamp Rat as a con-artist. However, will his conning go too far?
58
"Horace and Jasper's Big Career Move"
February 13, 1998
When Cruella fires Horace and Jasper, they visit the employment agency to look for a new job. Jasper has to keep covering for Horace's mistakes.
59
"DeVil-Age Elder"
February 16, 1998
Whilst on a picnic, Roger, Anita and the Dalmatians find themselves in "Devil Ville", a town cursed to appear only once every one hundred years. Now, with the Dearly's and Dalmatians brainwashed to be mindlessly happy beings in the town, it's up to Spot to break the curse and stop Judge Dimsdale Devil.
60A
"Jurassic Bark"
February 20, 1998
Upon finding a frozen cave pup, the Dalmatians must keep it out of sight of Cruella, who plans to use the cave pup as an advertisment stunt.
60B
"My Fair Moochie"
February 20, 1998
Cadpig and Mooch fall in love, although Cadpig's only aim is to persuade him not to fight in a wrestling match.
61A
"Dog Food Day Afternoon"
February 23, 1998
When the Dalmatians find out that Cruella has purchased 'Kanine Krunchies' and replaced the Dog Food in it with Saw Dust, they must reveal Cruella's scandal and return 'Kanine Krunchies' back to it's old recipe.
61B
"Spot's Fairy God-Chicken"
February 23, 1998
Spot wishes she was a dog. Drumstick, her fairy god-chicken, shows up to grant her wish. Soon, however, Spot gets more than she bargained for.
62A
"Good Neighbor Cruella"
February 27, 1998
P.H. De Vil splits Cruella into her two major personality components: good and evil. Cruella unleashes her good side on the Dearlys.
62B
"Animal House Party"
February 27, 1998
While Pongo, Perdita, and the humans are away, Cadpig discovers she has PDS, and Swamp Rat takes over the house for his party. The pups, with Lt. Pug, try to drive him out.
63
"Dalmatian Vacation, Part I - Road Warriors"
March 2, 1998
The Dearly's head on vacation for a second honeymoon, however Cruella tags along against Roger's wishes and soon hijacks the entire trip.
64
"Dalmatian Vacation, Part II - Cross-Country Calamity"
March 3, 1998
Roger and Anita learn their wedding was done by a con man and they aren't actually married, Cruella learns about this and tries to stop them, so their signed names on the farm would be invalid.
65
"Dalmatian Vacation, Part III - Dearly Beloved"
March 4, 1998
With the hours counting down, Roger and Anita need to reach the church and remarry, before Cruella can take the farm.