On numerous occasions in the 101 Dalmatians franchise, there have been notable cameos from characters of other Disney features. This page will indicate who, where and when they appear.
Probably the most famous amongst the cameos is Jock from the Disney film Lady and the Tramp; however, there are a number of other said cameos scattered throughout the scene.
Whilst Jock is the first character to pick up the "Twilight Bark" from the Great Dane, during the message relay other characters can be seen. Like amongst the Canines in a pet store window are Peg in a basket and Bull joining in the "Twilight Bark".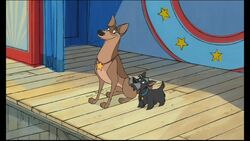 In Patch's London Adventure, during the auditions at the start of the movie, Jock is seen as one of the canines to audition in the Thunderbolt barking contest.
During the "Twilight Bark" scene, when a Chihuahua barks into the phone to a woman in a phone booth, it catches the attention of two Great Danes with their human walker. The woman in the phone booth and the Great Dane walker are two of the band members during the "Supercalifragilisticexpialidocious" number in Mary Poppins.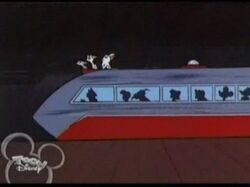 On top of one of the computer screens in Roger's office is a plush Figment from the Epcot attraction "Journey Into Imagination".
When Nanny arrives with the collars for the puppies, the Dalmatians are watching television. The movie they're watching is The Aristocats during the "Everybody Wants to Be a Cat" music number. A pup, however, changes the channel to Homeward Bound.
There is a Mickey Mouse item in the Dearlys kitchen when Anita realizes Cruella's motive for stealing the puppies.
During 102 Dalmatians, the Dalmatians and Second Chance dogs watch Lady and the Tramp on VHS.
Gallery
Community content is available under
CC-BY-SA
unless otherwise noted.