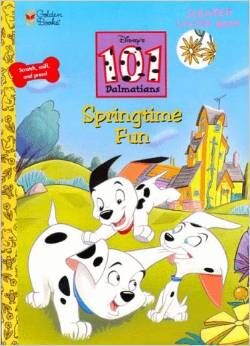 101 Dalmatians: Springtime Fun is a Little Golden Book based on 101 Dalmatians: The Series.
Synopsis
This is more a scented sticker book with a number of scenes about the Dearly Farm. Many of these scenes include: 
The Dalmatians watching Nanny make orange juice in the Dearly Farm house kitchen, before she gets the kibble for the Dalmatians at the Chow Tower.
Cadpig, Rolly, and Spot playing in the Dearly Farm barn hayloft as Lucky watches Thunderbolt.
The Dalmatians playing on the oak tree in the Dearly Farm barn.
Lucky climbing the trellis on the Dearly Farm house to watch Roger in this studio.
Colonel and Sgt. Tibbs giving a "Bark Brigade" session to Lucky, Tripod, Spot, and Lt. Pug.
Trivia
This book seems to suggest that there is a motorcycle and side car near the Colonel's rail car.
The book also claims that the tree in the Dearly Farm barn is an oak tree.